Jurassic Secret Emu Oil Soap
We would like to introduce you to our new emu oil soaps. We know you will love the new fragrances as much as we do. The new bars are larger, 4oz vs. 3.5oz, individually boxed, 100% natural ingredients and at least 80% of the ingredients are certified organic. Due to increased production runs and by using a different manufacturer, we were able to get the price lowered and pass the savings on to you!
Our new manufacturer uses a state of the art process of superfatting with emu oil. This process of adding in extra emu oil, after the chemical reaction of the soap molecule forms, will make the emu oil more noticeable on your skin.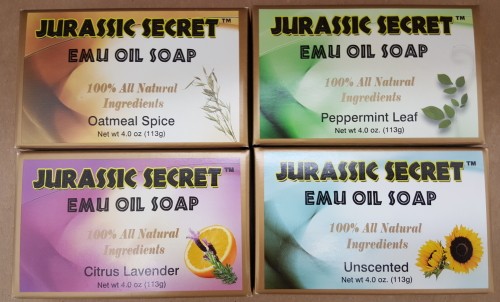 Peppermint Leaf Soap 4oz
Ingredients: Emu Oil, Peppermint Leaf, Saponified Oils of Safflower and/or Sunflower, Palm and Coconut (with retained glycerin), Essential Oils, Wheat Grass, Barley Grass, Alfalfa, Parsley and Rosemary Extract.



Peppermint Leaf
Oatmeal Spice Soap 4oz
Ingredients: Emu Oil, Saponified Oils of Safflower and/or Sunflower, Palm and Coconut (with retained glycerin), Oats, Essential Oils, Cloves and Rosemary Extract.



Oatmeal Spice
Citrus Lavender Soap 4oz
Ingredients: Emu Oil, Saponified Oils of Safflower and/or Sunflower, Palm and Coconut (with retained glycerin), Lavender, Essential Oils, Orange Peel, Annatto Seed and Rosemary Extract.



Citrus Lavender
Unscented Soap 4oz
Ingredients: Emu Oil, Saponified Oils of Safflower and/or Sunflower, Palm and Coconut (with retained glycerin), Essential Oils.



Unscented